About•Adopt•Etc•Links•Home




Here's where my bred litters are. I love breeding so check back often!


Rules;
:: please do not put any pet you adopt from me on any pet auction site.
:: if you show, please keep Chromo in the prefix!
:: you may change eyelid color/gender as you please - and of course names.
:: you may MPA as long as you ask me first; I might want the pet back
:: up to 3 adoptions a day, one per litter
:: have fun with your new pet! :)



BCB1 : BCB2 : BCB3 : BCG1
You need catz for the textures to work!!!!
I bred these guys with Harli's new BC overwrite. I really like them all! I promise they grow out of their chubbiness - here



Chad : Rukia : Bleach : Ichigo
This is just an experimental litter. I LOVE Ichigo! He's pretty cute :) The daddy is a handsome Bullie mix and the mom is a Dali mix. Rukia and Bleach have stub tails and Ichigo trots!




Orchid : Grey : Honorable : Ellie
All girls! Orchid and Honorable are both smaller than normal, but not minis. Grey and Honorbale have regular Dali tails, and Ellie has a puff tail. I am very tempted to keep Orchid, so a small why is required.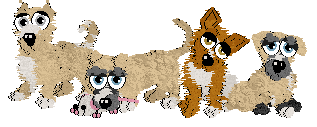 Distance : Redd : Cross : Monster
Aww I just love this litter! Their daddy is one of my favorite breddies, and he does like to flop so they all might have the gene! At any rate these guys are kind of similar but too cute to delete. Enjoy!


Form
name:
email:
URL (optional):
why (if needed):
extra:
email me! Please put the name(s) of the pets you want to adopt in the brackets in the subject line. Thanks!





coding and content © Leah!! no stealing!